AAI Financial shares your passion for commercial real estate. That's why we are providing you with this complimentary newsletter.
COMMERCIAL REAL ESTATE NEWS
Sunset on Solar ITC, Step Down Begins 2020
This is the last year that businesses are eligible for the 30 percent federal investment tax credit (ITC) for solar—sort of. A few simple steps can position businesses take advantage of the solar ITC before step downs begin next year.

Yardi – Full Article Here
---
Why Tier 2 Cities Have Real Estate Buyers' Attention
Opportunities for commercial real estate (CRE) owners and operators are flourishing outside of the largest U.S. metropolitan markets, such as New York and San Francisco. Investors exploring Memphis, Phoenix or Salt Lake City, among other cities in the Tier 2 real estate market, can earn strong returns by developing or purchasing and repositioning older properties.

Forbes – Full Article Here
---
Midyear Review: 5 Lessons for Commercial Real Estate in 2019
Halfway through the year, we revisit the trends, challenges and opportunities facing commercial real estate owners and investors—and how things have changed since the beginning of 2019.

Chase / JP Morgan – Full Article Here
---
ECONOMIC DATA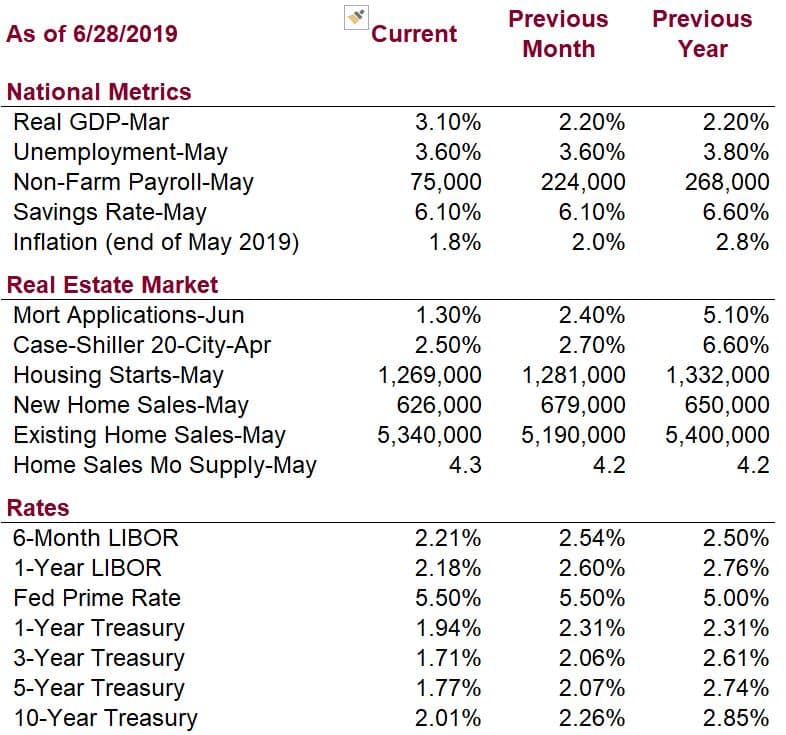 ---
BORROWER EDUCATION
Debt Service Coverage Ratio
The Debt Service Coverage Ratio (DSCR, sometimes DCR for Debt Coverage Ratio) is a number used in commercial loan underwriting to determine the ability of a borrower to repay a loan. Conversely, it can be used to determine the maximum amount of debt a lender believes a borrower can afford.
The DSCR is calculated using the formula
Cash Flow
Total Debt Service
If the DSCR is 1.25, this means for every dollar of debt service (principal and interest payment) owed, the business has one dollar and twenty five cents of cash flow available to pay it. Also, if the DSCR is 0.85, then for every dollar of debt service owed, the business only has eighty five cents of cash flow available to pay it.
At AAI Financial, we use the Debt Service Coverage Ratio to help guide our client borrowers in a variety of areas, including business plans, property purchases, financial strategies, and requesting the right loan from the right lender for their situation.
---
RECENTLY FUNDED TRANSACTIONS
Here are examples of opportunities we assisted our clients with last quarter:
$7,840,000 2 hotel purchases in WA – SBA 504 80% LTV
$775,150 2 home builder construction loans in Yakima, WA – 75% LTV
$291,000 9-unit multifamily purchase in Yakima, WA – 83.2% LTV
Let's talk.
We are knowledgeable, easy to talk to, and give free advice.
Please contact us to see how we can work together.