2020 is full of opportunities and risks. We are still in the longest economic expansion ever, however political risk and potential recession create uncertainty. Please enjoy our quarterly newsletter addressing these issues and more.
COMMERCIAL REAL ESTATE NEWS
2020 Prospects: Top Economists Weigh In

Insights on what's ahead next year from two of the industry's leading economists.

Commercial Property Executive – Full Article Here
---
5 Social Media Strategies

Social media platforms and technologies have redefined how multifamily managers engage with customers to attract, convert and retain residents. According to one survey, people spend one-seventh of their time on social media. In a crowded online environment, does your corporate or property social media strategy have what it takes to stand out and get noticed? Get ready for 2020 with these five smart social media strategies.

Yardi Corporate Blog – Full Article Here
---
5 Things to Know About Opportunity Zone Deadlines

Investors should not be rushing into Opportunity Zone commitments, but here are some crucial dates to be aware of.

Commercial Property Executive – Full Article Here
---
ECONOMIC DATA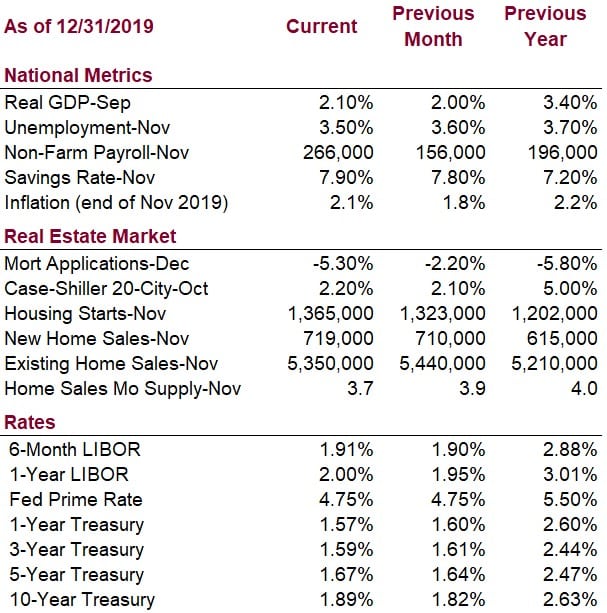 ---
BORROWER EDUCATION
LTV – Loan To Value
Loan to Value (LTV) is a ratio used in lending to determine the relationship between the loan amount and the value of collateral. It is used by lenders to determine how much risk the lender is willing to take, and how much risk they would like the borrower to take.
The formula for LTV is simply: LTV = Loan Amount / Collateral Value. For example, a transaction may be limited to 80% LTV. If the loan is for the purchase of a property worth $100,000, the lender would lend, at most, $80,000 and the borrower would need to bring $20,000 to the deal.
The LTV rule of thumb on commercial property is 80%. Certain SBA loan programs will go to 90%. Certain property types or higher risk transactions will have lower LTVs. Single family residential rental properties are often limited to 70% or 75%. Hotels are considered riskier and often limited to an LTV of 60% or 65%. Vacant land is sometimes limited to 50%. LTV limits are determined by the lender and can vary based on the specialty and expertise of the lender.
At AAI Financial, we assist our client borrowers by working with lenders to negotiate the appropriate loan to value terms for each deal. For more information, click here
---
RECENTLY FUNDED TRANSACTIONS
Here are examples of opportunities we assisted our clients with last quarter:
$1,412,000 Industrial Space Refinance – 2 Locations in WA – 75% LTV
$500,000 Real Estate Secured Line of Credit in Yakima, WA – 73.5% LTV
$276,000 Retail Owner Occupied Real Estate Purchase in Yakima, WA – SBA 7a 90% LTV
Let's talk.
We are knowledgeable, easy to talk to, and give free advice.
Please contact us to see how we can work together.