The dominant topic of 2020 has been COVID-19, which has created significant uncertainty in the capital markets and prompted government intervention. Please enjoy our quarterly newsletter addressing these issues and more.
COMMERCIAL REAL ESTATE NEWS
$2T to the Rescue: CRE and the Stimulus Package
The wartime-level legislation could shore up the economy—and by extension the commercial real estate sector. Some experts weigh in.

Commercial Property Executive – Full Article Here
---
The Economic Toll and Recovery Efforts of COVID-19
The novel coronavirus outbreak has had a major effect on businesses in dining, hospitality and travel sectors, and small and mid-sized businesses. In response, the federal government is enacting fiscal and monetary relief efforts.

JPMorgan Chase – Full Article Here
---
ECONOMIC DATA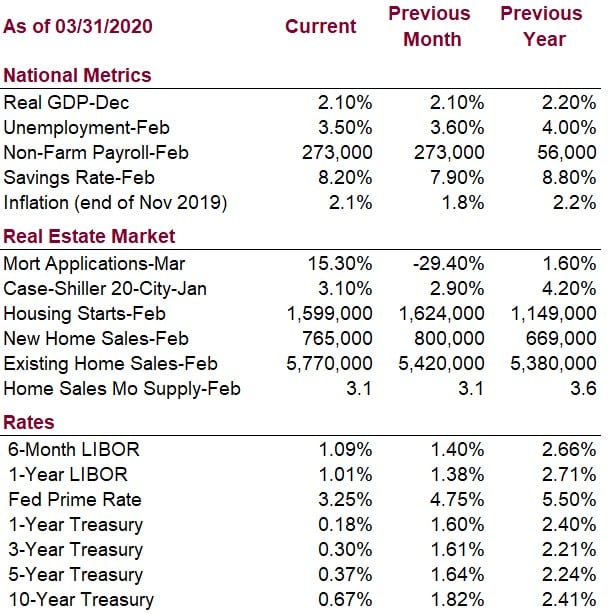 ---
BORROWER EDUCATION
COVID-19 Economic Relief
The government, through the SBA, is offering relief to small businesses. AAI Financial is offering FREE assistance in determining which program is the best fit for your business, and FREE assistance in applying for these programs. Programs currently being offered:

CARES Act SBA 7(a), Paycheck Protection Program (PPP)
Loan amounts up to $10,000,000, determined by multiplying the average total monthly payments for payroll costs during the 1-year period before the loan is made by 2.5. Payroll amounts over $100,000 per person will be excluded from the calculation.
Interest rate: 1.00%
All payments will be deferred for 6 months
Loans will be due in 2 years
Company must have 500 or less employees
No minimum credit score guidelines
No prepay penalty, no personal guarantees, no collateral required, SBA guarantee fees and lender fees will be waived
Proceeds can be used for Payroll support (including paid sick and medical leave), employee salaries, mortgage payments, utility payments, insurance premiums, any other debt obligations
Borrowers will be eligible to apply for loan forgiveness equal to the amount spent by the borrower during an 8-week period after the loan closing date on payroll costs, interest on mortgages, payments of rent, and utility payments, in each case that were in place before February 15, 2020. Principal payments of mortgage payments will not be eligible for forgiveness.
CARES Act SBA 7(a), Small Business Debt Relief Program (SBDRP)
Provides immediate relief to small businesses with non-disaster related SBA loans, including 7(a), 504 and microloans
SBA covers all loan payments including principal, interest and fees for six months
Borrowers may separately apply for and receive a PPP loan. Debt relief under this program will not apply to the PPP loan.
Relief is also available to new borrowers who take out loans within six months
Economic Injury Disaster Loans (EIDL)
Must apply directly through the SBA
Loan amounts up to $2,000,000
3.75% interest rate for for-profit businesses, 2.75% interest rate for non-profit businesses
Loan terms will not exceed 30 years
Under the EIDL, $10,000 Emergency Loan/Grants are available:
This advance will provide economic relief to businesses that are currently experiencing a temporary loss of revenue.
These applications are fast tracked. Funds will be made available within three days of a successful application.
This loan advance will not have to be repaid.
If you receive an EIDL, you will not be eligible for the CARES Act SBA 7(a) Relief Loan.
The government is also providing assistance through small business tax provisions which include refundable tax credits for 50% of wages paid to certain employees during the crisis, and deferring the employer portion of certain payroll taxes through the end of 2020. These programs are not available to companies that participate in the PPP. Please contact your tax professional for more information about the tax provision programs.
---
RECENTLY FUNDED TRANSACTIONS
Here are examples of opportunities we assisted our clients with last quarter:
$9,512,000 60-Unit Apartment Complex Construction in Pasco, WA – 75% LTC
$315,000 Retail Strip Center Purchase in Yakima, WA – 90% LTV
$2,362,500 RV Park Purchase in Soap Lake, WA – 71.5% Loan to Purchase Price
Let's talk.
We are knowledgeable, easy to talk to, and give free advice.
Please contact us to see how we can work together.