Adjusting to COVID-19 and its impact on the economy, pricing, rents and how business is done is becoming the norm. Please enjoy our quarterly newsletter addressing these issues and more.
COMMERCIAL REAL ESTATE NEWS
Rent Payment Tracker: Rent Payments Flat from August
The National Multifamily Housing Council (NMHC)'s Rent Payment Tracker found 92.2 percent of apartment households made a full or partial rent payment by September 27 in its survey of 11.4 million units of professionally managed apartment units across the country. This is a 1.5 percentage point, 170,399 household decrease from those who paid through Sept 27, 2019.

Yardi Yield Pro – Full Article Here
---
Construction Financing and the COVID-19 Challenge
Project sponsors should expect tighter underwriting, higher cost of capital and more limited options. "Today 65 percent loan-to-cost seems to be (the) max, while six months ago, sponsors could get 70 percent to 75 percent LTC" Sierotko reported.

Commercial Property Executive – Full Article Here
---
Six Amenities That Will Attract New Renters During COVID-19
We've all had to adapt to changes caused by COVID-19 fears and stay-at-home orders. And some things might not go back to the way they were for a very long time, if ever.

Multi Housing News – Full Article Here
---
ECONOMIC DATA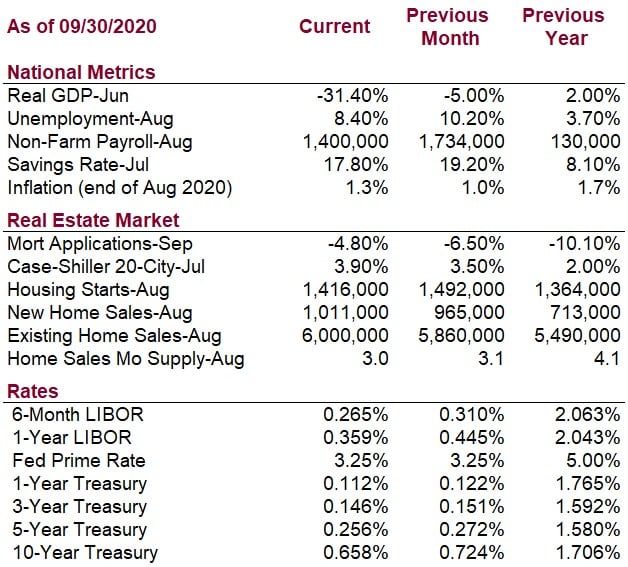 ---
BORROWER EDUCATION
Appraisals
Commercial appraisals are a required by lenders for commercial property transactions. An appraisal provides a valuation of the property. The valuation helps the lender and the borrower better assess the transaction. A lender will use the valuation in conjunction with the cash flow of the property to determine how much they are willing to lend against a property.
Valuation of a commercial property can be determined three ways:
Cost Approach: this method equates the property value with what the cost would be if the building were built now. Because of the effects of depreciation and other factors, this method is more often used on brand new properties.
Market / Sales Approach: this method compares the property to recent sales of similar properties in the same market. Adjustments are often made for differences in building features, age, location, and other factors.
Income Approach: this method assesses how much income a property is expected to produce over time. The appraiser then reviews similar properties to determine what rate of income related to value is typical for the type of property in that market. The rate of income related to value, or rate of return, is called the capitalization rate. The capitalization rate is then applied to the expected income of the subject property to determine a value.
Commercial appraisals provide much more than just a valuation. Appraisers research public ownership and zoning records, investigate demographic and lifestyle information about the market, review topographical information and sometimes soil information, and a variety of other data that may affect the property depending on the type of property. The appraisal will also indicate what the best use of a property is. A commercial appraisal provides a wealth of information about a property.
Article with More Information
What You Should Know About Real Estate Valuation
---
RECENTLY FUNDED TRANSACTIONS
Here are examples of opportunities we assisted our clients with last quarter:
$840,661 Mini-Storage Cash-Out Refinance – Vashon, WA – 38% LTV
$795,000 Apartment Complex Refinance – Moses Lake, WA – 75% LTV
$1,464,500 Owner Occupied Medical Office Purchase SBA – Selah, WA – 90% LTV
Contact us to learn how we can help you with your commercial property financing.
Let's talk.
We are knowledgeable, easy to talk to, and give free advice.
Please contact us to see how we can work together.