The opening of the economy and increasing vaccination rates are having an effect on inflation, construction costs and the real estate market. Please enjoy our quarterly newsletter addressing these issues and more.
COMMERCIAL REAL ESTATE NEWS
Recovery Gains
As the U.S. economy continues to show recovery gains, multifamily housing follows suite. Several factors including prevalent industries, vaccination rates and employment create a distinction between markets with rapid growth and lagging gains.

The Balance Sheet, Yardi Corporate Blog –

Full Article Here
---
How Can the $46.5B Emergency Rental Assistance Program Help Your Tenants?
Two COVID-19 stimulus packages provide emergency rental assistance to help people catch up on their rent and utilities.

J.P.Morgan Insights –

Full Article Here
---
Solutions for Building Office Properties Amid Supply Shortages, Rising Prices
As the pandemic subsides, two Skender executives discuss how the current economic challenges facing development and renovation projects can be overcome.

Commercial Property Executive –

Full Article Here
---
ECONOMIC DATA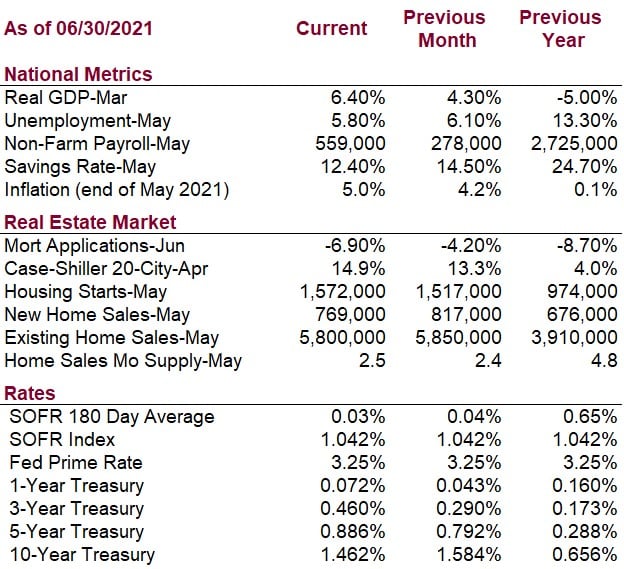 LIBOR rates are no longer being published in AAI Quarterly Newsletter.
In 2017 in the United States, the Alternative Reference Rates Committee (ARRC), convened by the Federal Reserve Board, officially endorsed the Secured Overnight Financing Rate (SOFR) as the preferred benchmark interest reference rate replacing LIBOR. SOFR's price is based on borrowing rates for overnight U.S. Treasury repurchase agreements, or repos.
On March 5, 2021, the Financial Conduct Authority, the financial services regulator in the UK, announced the cessation of LIBOR.
---
BORROWER EDUCATION
Title Insurance and Title Companies
A title to a piece of property is evidence that the owner is in lawful possession of the property. Title Insurance protects real estate owners and lenders against any loss they might experience due to liens, encumbrances or defects in the title to the property. Lenders use title insurance to verify that they will have the first right to the property should the loan default.
Title companies will research the property ownership records, including the history of ownership, to verify the borrower is (or will be, in the case of a purchase) the owner of the property without dispute.
The title company will also review for current liens or encumbrances. A lien is a claim against a property. Some of the encumbrances are expected, and the title company may issue title insurance with acceptable encumbrances. An example of an acceptable encumbrance would be a right of way for a public utility. Other liens, such as a contractor's lien or tax lien, are considered unacceptable because they could mean the lender's lien (a mortgage or deed of trust) will not be in first position.
Position has to do with the timing of filing. Generally, whichever deed, lien, mortgage, etc. is filed first (date stamped) at the courthouse has the first right. For example, a house may have a first mortgage from Bank A, and two years later the borrower gets a home equity line of credit from Bank B. Both banks will have filed their mortgage (their lien) at the time they made the loan. Because Bank A's mortgage was filed 2 years before Bank B's, Bank A will be in first position. If the loans default, Bank A has first right to take the house. Bank B may end up with nothing.
Title companies provide several other services related to property transactions, such as preparing the transaction settlement statement, verifying the legal description is accurate, facilitating closings, transmitting funds to various parties (tax authorities if taxes due, lenders being paid off, the county for recording fees, etc.) and filing appropriate records and paperwork with the county. requested.
What are the Duties and Roles of Title Companies – Full Article Here
What is Title Insurance? – Full Article Here
---
RECENTLY FUNDED TRANSACTIONS
Here are examples of opportunities we assisted our clients with last quarter:
$6,626,000 Multifamily Construction – Yakima, WA – 70% LTC
$705,700 9 Unit Construction to Perm – Ellensburg, WA – 80% LTC, 75% LTV
$1,170,000 Mixed Use, Cash Out Refi – Seaside, CA – 65% LTV
Contact us to learn how we can help you with your commercial property financing.
Let's talk.
We are knowledgeable, easy to talk to, and give free advice.
Please contact us to see how we can work together.