Potential tax reforms and government programs are causing real estate investors to carefully review their portfolios. Please enjoy our quarterly newsletter addressing these issues and more.
COMMERCIAL REAL ESTATE NEWS
Real Estate Tax Reform: The Potential Impact of a Capital Gains Tax Hike
The Biden administration is considering increasing the long-term capital gains tax rate, which can result in investors paying more upon the sale of their real estate investments.

Forbes Magazine –

Full Article Here
---
Key Considerations for Adaptive Reuse Projects
An array of economic incentives may be available to help transform existing buildings.

Commercial Property Executive –

Full Article Here
---
NAA Sues Federal Government to Recover Industry's Losses Under Nationwide Eviction Moratorium
The National Apartment Association is taking legal action to recover damages housing providers suffered under the CDC's eviction moratorium and ensure that similar measures can never again be enacted.

National Apartment Association –

Full Article Here
---
ECONOMIC DATA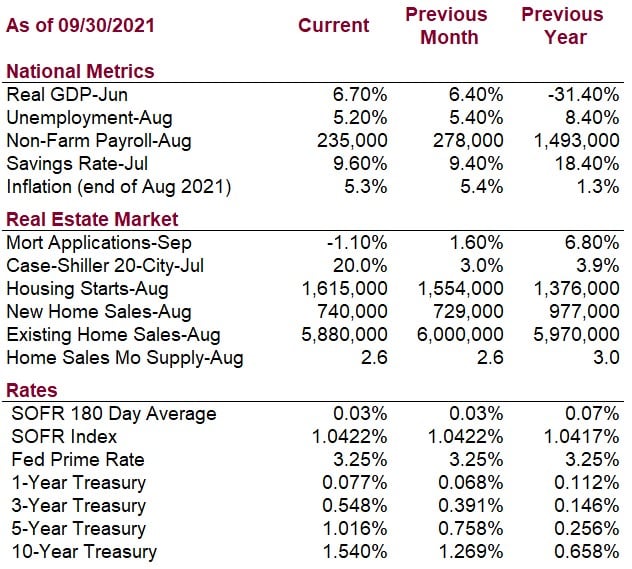 LIBOR rates are no longer being published in AAI Quarterly Newsletter.
In 2017 in the United States, the Alternative Reference Rates Committee (ARRC), convened by the Federal Reserve Board, officially endorsed the Secured Overnight Financing Rate (SOFR) as the preferred benchmark interest reference rate replacing LIBOR. SOFR's price is based on borrowing rates for overnight U.S. Treasury repurchase agreements, or repos.
On March 5, 2021, the Financial Conduct Authority, the financial services regulator in the UK, announced the cessation of LIBOR.
BORROWER EDUCATION
Rental Property Analysis
When lenders and appraisers review an investment rental property, whether it is a single family, duplex, triplex or multifamily, they use a process to determine the cash flow of the building on an ongoing basis in an average year. The income and expenses used in the process may be different from what the borrower has experienced.
Reviewing the lease is an important part of the process. Long term leases versus month to month may change the lender's estimation of tenant turnover frequency. The lease may also indicate certain expenses, like utilities, are covered by the tenant rather than the borrower.
Gross income is determined first by using the monthly lease amount multiplied by 12 months. Other income, such as laundry services, pet fees, or parking charges can be included. The lender will then apply a vacancy factor. The vacancy factor will depend on multiple things like the economy, lease length, historical turnover, etc. For residential properties, we are currently seeing vacancy factors of 5%, which means 5% of the rental income will be subtracted from the lease calculation. This results in Effective Gross Income.
Expenses are calculated next. Property tax expenses can be found on the county website. Insurance expenses are usually provided by the borrower's agent.
Utilities expenses may or may not be included depending on the lease. Utilities expenses may be estimated based on historical information, based on costs per square foot and comparison to properties of similar size, or as a percentage of rent revenue. Repairs and maintenance costs may be estimated in a similar way.
Property management costs will often be included even if the borrower manages the property themselves. Costs will depend on the average rate for the market and may be between 5% and 10% of gross income.
Other costs, for items like landscaping and snow removal, may be included.
A final expense item called Capital Expenditures, or CapEx, is often included. Every property will have a large expense every so often for large repairs like a new roof, heating and cooling system, etc. A CapEx expense of 3%-5% of rents may be included to estimate what needs to be set aside each year to cover these costs when they happen.
Effective Gross Income less Total Expenses results in Net Operating Income (NOI), the expected ongoing cash flow of the building. The NOI is used by appraisers to estimate value, and by lenders to determine if the building generates sufficient cash flow to cover the required debt payment.
How to Calculate Rental Property Cash Flow – Full Article Here
How to do an Accurate Rental Property Cash Flow Analysis – Full Article Here
---
RECENTLY FUNDED TRANSACTIONS
Here are examples of opportunities we assisted our clients with last quarter:
$1,469,900 Hotel Refinance – Ocean Shores, WA – 80% LTV SBA 7(a)
$4,806,400 Retail Purchase and Construction – Yakima, WA – 90% LTV SBA 7(a)
$805,000 Rental Property Portfolio, Cash Out Refi – Seattle, WA – 43% LTV
Contact us to learn how we can help you with your commercial property financing.
Let's talk.
We are knowledgeable, easy to talk to, and give free advice.
Please contact us to see how we can work together.