Rising interest rates and inflation are impacting commercial lending causing borrowers to rethink their investments, how they borrow and who they borrow from. Please enjoy our quarterly newsletter discussing these themes, their impact on your business, and more.
---
COMMERCIAL REAL ESTATE NEWS
September 2023 Fed Meeting: Hitting Pause on Rate Hikes
The Fed announced they are keeping rates as-is, but the possibility of another hike before the end of the year remains.

Article courtesy of J.P.Morgan Insights – Full Article Here
---
5 Ways to Hold Down Construction Costs
Cost overruns can undermine the viability of any construction project. That's why—for developers, owners, or contractors—an ounce of prevention via clearly defined contracts upfront is worth pounds of cure that are applied once problems set in.

Article courtesy of Commercial Property Executive – Full Article Here
---
Uncovering Opportunities in Stressed Commercial Real Estate
Higher rates and scarcer credit make it a tough time for commercial real estate owners – and potentially a good time to invest in stressed properties.

Article courtesy of J.P.Morgan Insights) – Full Article Here
---
ECONOMIC DATA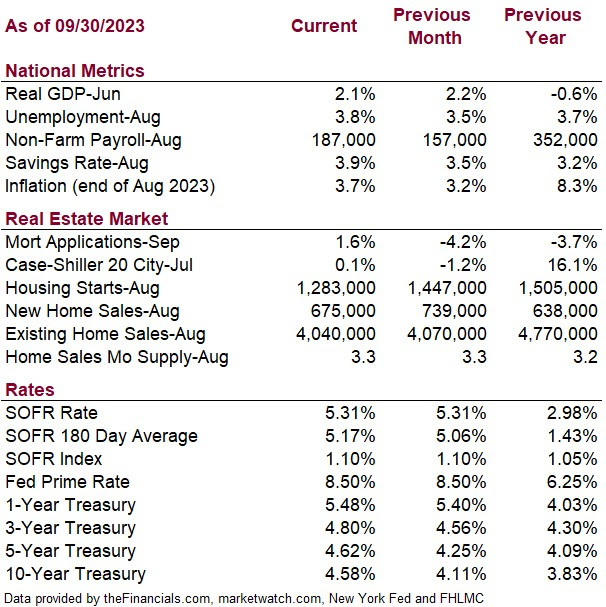 ---
BORROWER EDUCATION
Adding Services
All businesses try to grow through various means including adding customers, adding properties, or expanding services. AAI's desire to grow is no different.
AAI Financial is pleased to announce we are expanding the services we offer. Our new services are interrelated, and we hope many clients will be able to benefit from multiple services.
Loan Brokerage: AAI Financial started as a loan broker. Our experience in banking and commercial real estate lending allows us to assist clients with real estate portfolio strategies and obtaining the right financing for their business or investment properties.
Our experience and resources lend themselves well to other related services.
Direct Lending: AAI Financial provides direct lending capabilities through our sister company AAI Capital. This could be a great option for borrowers in the Pacific Northwest looking for short-term financing with rates starting at 10%. AAI Capital is entertaining investors looking for passive monthly income with good returns.
Real Estate Brokerage: AAI Real Estate specializes in providing real estate services with a focus on advice and creative solutions that puts our clients' interests first. We assist our clients with all aspects of buying, selling, or leasing real estate, either residential or commercial. We are now licensed in the State of Washington.
Business Sale Brokerage: We now offer our clients complete and comprehensive representation in the buying and selling of privately held companies and family-owned businesses. Our team utilizes our diverse expertise to help guide our clients through the process of buying or selling a business.
Commercial Underwriting: Our commercial team has 50+ years of experience in the banking industry and is highly knowledgeable in all areas of business and commercial lending. We now offer lenders commercial loan underwriting services by providing quality analyses, evaluation, sensitivity analysis, adherence to their policies and banking and credit union regulations.
As always, the long-term success of our clients is our primary focus. Our goal is to give genuine, honest advice first, keep the process simple so our clients can focus on their own business, utilize our experience to provide unique solutions, and create a long-term relationship.
Please contact us to see how we can work together.
---
RECENTLY FUNDED TRANSACTIONS
Here are examples of opportunities we assisted our clients with last quarter:
$1,000,000 Gas Station Refinance – Yakima, WA – 71.43% LTV
$2,220,750 Three Property Multifamily Refi –Pontiac, MI – 67.50% LTV
$7,750,000 Multifamily Construction Takeout –Yakima, WA – 67.10% LTV
Contact us to learn how we can help you with your commercial property financing.
---
We're Hiring!
AAI Financial Group continues to grow! We are looking for Loan Originators to join our team and participate in our continued success. For more information, email us at info@aaifg.com or view our career opportunities here.
Let's talk.
We are knowledgeable, easy to talk to, and give free advice.
Please contact us to see how we can work together.